Line tool settings:
The line tool most commonly used in technical analysis to draw support and resistance areas by drawing lines along swing highs and lows. Line tool has 6 built-in pre-sets (Line, Ray, XLine, Arrow, Support Zone, Resistance Zone). Every pre-set created, by customizing settings. Users could create them on presets or edit already existing ones.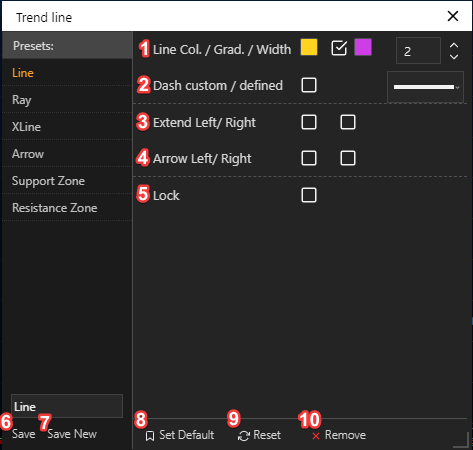 1 - Line Col. / Grad. / Width: changes line color / enables line gradient and changes gradient color / changes line width, min - 1, max - 20;
2 - Dash custom / defined: changes line to custom dashed view, dashing frequency min 1, max - 50/ defined line type from the list;
3 - Extend Left / Right: extends line to the left, or right side of the screen;
4 - Arrow Left / Right: adds an arrows to the left and right sides of the line;
5 - Lock: lock line location on the chart screen;
Bottom panel:
6 - Save: saves changes under present preset;
7 - Save new: duplicates preset and saves changes as a new preset;
8 - Set default: sets as default preset, every new line will be loaded under this preset;
9 - Reset: resets preset to default values;
10 - Remove: deletes preset unrecoverably.